The mortgage process can often be a confusing one — whether you've bought a home before or not. There's a lot of prep work and moving parts, and most of the terminology is unfamiliar to the average consumer.
Fortunately, that last part is an easy fix.
Are you getting ready to buy a home or refinance your current mortgage? Take a look at some of the lesser-known terms you might want to know.
Annual Percentage Rate (APR): This number reflects the total annual cost of taking out your mortgage loan. It's different from your mortgage interest rate and includes some extra fees.

Underwriting: When a loan professional evaluates your application and verifies all your financial details, that's underwriting. It's important to ensure that you have the means to manage your new monthly payment.

Escrow: An escrow account is used to hold funds prior to closing, including your earnest money deposit. You might also pay into an escrow account to cover property taxes, homeowners insurance and private mortgage insurance (if you have it).

Closing Disclosure: This is a document that you'll be given at least three days before your closing date. It should detail all the final costs of your loan, as well as what you'll be expected to pay on closing day.

Mortgage Note: You'll sign this document at closing.It outlines the terms of your home loan and includes how much you're borrowing, whether it's a fixed-rate or adjustable-rate mortgage and more.

Prepaid Costs: These also come up at closing and will go into your escrow account. They usually cover mortgage interest, property taxes and homeowners insurance expenses that occur between your closing date and the date your first mortgage payment is due.
If you need help understanding any part of the mortgage process, get in touch today.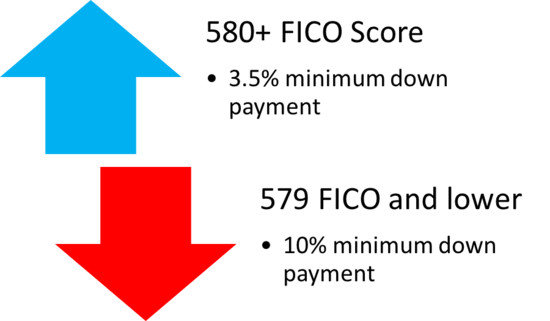 HA Loans vs. Conventional Loans
FHA LOAN
CONVENTIONAL LOAN
Minimum Credit Score
500
620
Down Payment
3.5% with credit score of 580+ and 10% for credit score of 500 to 579
3% to 20%
Loan Terms
15 or 30 years
10, 15, 20, or 30 years
Mortgage Insurance
Upfront MIP + Annual MIP for either 11 years or the life of the loan, depending on LTV and length of loan
None with down payment of at least 20% or after loan is paid down to 78% LTV
Mortgage Insurance Premiums
Upfront: 1.75% of the loan + Annual: 0.45% to 1.05%
PMI: 0.5% to 1% of the loan amount per year
Down Payment Gifts
100% of down payment can be a gift
Only part can be a gift if down payment is less than 20%
Down Payment Assistance Programs
Yes
No
Qualifying for an FHA Loan
Your lender will evaluate your qualifications for an FHA loan as it would any mortgage applicant. However, instead of using your credit report, a lender may look at your work history for the past two years (as well as other payment-history records, such as utility and rent payments). As long as you've re-established good credit, you can still qualify for an FHA loan if you've gone through bankruptcy or foreclosure. It's important to keep in mind that, as a general rule of thumb, the lower your credit score and down payment, the higher the interest rate you'll pay on your mortgage.
Along with the credit score and down payment criteria, there are specific lending FHA mortgage requirements outlined by the FHA for these loans. Your lender must be an FHA-approved lender and you must have a steady employment history or have worked for the same employer for the past two years.
If you're self-employed, you need two years of successful self-employment history; this can be documented by tax returns and a current year-to-date balance sheet and profit and loss statement.15 If you've been self-employed for less than two years but more than one year, you may still be eligible if you have a solid work and income history for the two years preceding self-employment (and the self-employment is in the same or a related occupation). You must have a valid Social Security number, reside lawfully in the U.S., and be of legal age (according to your state laws) in order to sign a mortgage.
Usually, the property being financed must be your principal residence and must be owner-occupied. In other words, the FHA loan program is not intended to be used for investment or rental properties. Detached and semi-detached houses, townhouses, rowhouses, and condominiums within FHA-approved condo projects are all eligible for FHA financing.
Your front-end ratio (your mortgage payment, HOA fees, property taxes, mortgage insurance, and homeowner's insurance) needs to be less than 31% of your gross income.16 In some cases, you may be approved with a 40% ratio.
Your back-end ratio (your mortgage payment and all other monthly consumer debts) must be less than 43% of your gross income.16 However, it is possible to be approved with a ratio as high as 50%. Also, you need a property appraisal from an FHA-approved appraiser, and the home must meet certain minimum standards. If the home doesn't meet these standards and the seller won't agree to the required repairs, you must pay for the repairs at closing. (In this case, the funds are held in escrow until the repairs are made).
---
Joel Lobb, American Mortgage Solutions (Statewide)
Joel has worked with KHC for 12 of his 20 years in the mortgage lending business. Joel said, "A lot of my clients would not have been able to purchase a home of their own or possibly delayed their purchase due to lack of down payment but with the $6,000 DAP loan program, this gets them into a house sooner and starts their path to homeownership while building equity instead of throwing their money away."
When you're ready to purchase a home in Joel's area, contact him at:
Phone: 502-905-3708
Email: Kentuckyloan@gmail.com
Website: www.mylouisvillekentuckymortgage.com
Joel Lobb (NMLS#57916)
Senior  Loan Officer
American Mortgage Solutions, Inc.
10602 Timberwood Circle Suite 3
Louisville, KY 40223Company ID #1364 | MB73346
Text/call 502-905 3708
Disclaimer: No statement on this site is a commitment to make a loan. Loans are subject to borrower qualifications, including income, property evaluation, sufficient equity in the home to meet Loan-to-Value requirements, and final credit approval. Approvals are subject to underwriting guidelines, interest rates, and program guidelines and are subject to change without notice based on applicant's eligibility and market conditions. Equal Opportunity Lender.
NMLS#57916 http://www.nmlsconsumeraccess.org/— Some products and services may not be available in all states. Credit and collateral are subject to approval. Terms and conditions apply. This is not a commitment to lend. Programs, rates, terms and conditions are subject to change without notice. The content in this marketing advertisement has not been approved, reviewed, sponsored or endorsed by any department or government agency. Rates are subject to change and are subject to borrower(s) qualification.