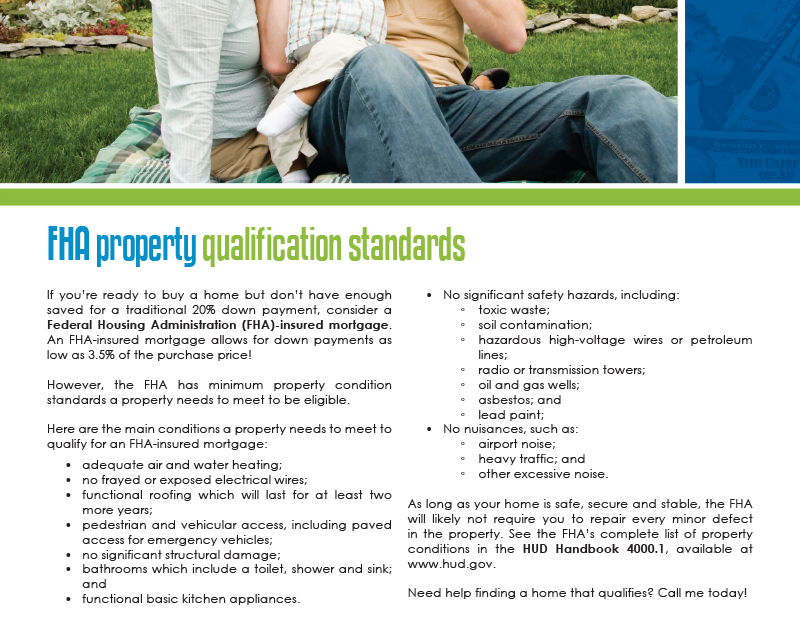 Below are Kentucky  FHA guidelines for a property that has well water and septic tanks for waste disposal .  The Kentucky FHA appraiser should be able to address the distance between the well and septic for distance requirements, and comment if public sewers are available.
Well water test will be required as a closing condition. FHA mortgages loans in Kentucky  require a septic inspection unless the appraiser mentions it is necessary.
(O) Water Supply Systems in Kentucky 
(1) Public Water Supply System The Mortgagee must confirm that a connection is made to a public or Community Water System whenever feasible and available at a reasonable cost. If connection costs to the public or community system are not reasonable, the existing onsite systems are acceptable, provided they are functioning properly and meet the requirements of the local health department.
(2) Individual Water Supply Systems (Wells) When an Individual Water Supply System is present, the Mortgagee must ensure that the water quality meets the requirements of the health authority with jurisdiction. If there are no local (or state) water quality standards, then water quality must meet the standards set by the EPA, as presented in the National Primary Drinking Water regulations in 40 CFR §§ 141 and 142. Soil poisoning is an unacceptable method for treating termites unless the Mortgagee obtains satisfactory assurance that the treatment will not endanger the quality of the water supply. Requirements for the location of wells for FHA-insured Properties are located in 24 CFR § 200.926d (f) (3). The following tables provide the minimum distance required between wells and sources of pollution for Existing Construction:
Individual Water Supply System for Minimum Property
Requirements for Existing Construction*
1
Property line/10 feet
2
Septic tank/50 feet
3
Drain field/100 feet
4
Septic tank drain field reduced to 75 feet if allowed by local authority
5
If the subject Property line is adjacent to residential Property then local well distance requirements prevail. If the subject Property is adjacent to non-residential Property or roadway, there needs to be a separation distance of at least 10 feet from the property line.
* distance requirements of local authority prevail if greater than stated above
The following provides the minimum requirements for water wells:
Water Wells Minimum Property Standards for New Construction
24 CFR § 200.926d(f)(1)
1
Lead-free piping
2
If no local chemical and bacteriological water standards, state standards apply
3
Connection of public water whenever feasible
4
Wells must deliver water flow of five gallons per minute over at least a four-hour period
Water Wells Minimum Property Requirements for Existing Construction
1
Existing wells must deliver water flow of three to five gallons per minute
2
No exposure to environmental contamination
3
Continuing supply of safe and potable water
4
Domestic hot water
5
Water quality must meet requirements of local jurisdiction or the EPA if no local standard
Shared WellsThe Mortgagee must confirm that a Shared Well:
serves existing Properties that cannot feasibly be connected to an acceptable public or Community Water supply System;
is capable of providing a continuous supply of water to involved Dwelling Units so that each existing Property simultaneously will be assured of at least three gallons per minute (five gallons per minute for Proposed Construction) over a continuous four-hour period. (The well itself may have a lesser yield if pressurized storage is provided in an amount that will make 720 gallons of water available to each connected existing dwelling during a continuous four-hour period or 1,200 gallons of water available to each proposed dwelling during a continuous four-hour period. The shared well system yield must be demonstrated by a certified pumping test or other means acceptable to all agreeing parties.);
provides safe and potable water. An inspection is required under the same circumstances as an individual well. This may be evidenced by a letter from the health authority having jurisdiction or, in the absence of local health department standards, by a certified water quality analysis demonstrating that the well water complies with the EPA's National Interim Primary Drinking Water Regulations;
has a valve on each dwelling service line as it leaves the well so that water may be shut off to each served dwelling without interrupting service to the other Properties; and
serves no more than four living units or Properties.
For both proposed and existing Properties, the Mortgagee must ensure that the shared well agreement complies with the guidance provided in the following table.
Item
Provisions that must be reflected in any acceptable shared well agreement include the following:
1
Require that the agreement is binding upon signatory parties and their successors in title, recorded in local deed records when executed and recorded, and reflects joiner by any Mortgagee holding a Mortgage on any Property connected to the Shared Well.
2
Permit well water sampling and testing by the local authority at the request of any party at any time.
3
Require that corrective measures be implemented if testing reveals a significant water quality deficiency, but only with the consent of a majority of all parties.
4
Ensure continuity of water service to "supplied" parties if the "supplying" party has no further need for the shared well system. ("Supplied" parties normally should assume all costs for their continuing water supply.)
5
Prohibit well water usage by any party for other than bona fide domestic purposes.
6
Prohibit connection of any additional living unit to the shared well system without:

·        the consent of all parties;

·        the appropriate amendment of the agreement; and

·        compliance with item 3.

7
Prohibit any party from locating or relocating any element of an individual sewage disposal system within 75 feet (100 feet for Proposed Construction) of the Shared Well.
8
Establish Easements for all elements of the system, ensuring access and necessary working space for system operation, maintenance, improvement, inspection and testing.
9
Specify that no party may install landscaping or improvements that will impair use of the Easements.
10
Specify that any removal and replacement of preexisting site improvements, necessary for system operation, maintenance, replacement, improvement, inspection or testing, will be at the cost of their owner, except for costs to remove and replace common boundary fencing or walls, which must be shared equally between or among parties.
11
Establish the right of any party to act to correct an emergency in the absence of the other parties onsite. An emergency must be defined as failure of any shared portion of the system to deliver water upon demand.
12
Permit an agreement amendment to ensure equitable readjustment of shared costs when there may be significant changes in well pump energy rates or the occupancy or use of an involved Property.
13
Require the consent of a majority of all parties upon cost sharing, except in emergencies, before actions are taken for system maintenance, replacement or improvement.
14
Require that any necessary replacement or improvement of a system element(s) will at least restore original system performance.
15
Specify required cost sharing for:

·        the energy supply for the well pump;

·        system maintenance, including repairs, testing, inspection and disinfection;

·        system component replacement due to wear, obsolescence, incrustation or corrosion; and

·        system improvement to increase the service life of a material or component to restore well yield or to provide necessary system protection.

16
Specify that no party is responsible for unilaterally incurred shared well debts of another party, except for correction of emergency situations. Emergency correction costs must be equally shared.
17
Require that each party be responsible for:

·        prompt repair of any detected leak in this water service line or plumbing system;

·        repair costs to correct system damage caused by a resident or guest at their Property; and

·        necessary repair or replacement of the service line connecting the system to the dwelling.

18
Require equal sharing of repair costs for system damage caused by persons other than a resident or guest at a Property sharing the well.
19
Ensure equal sharing of costs for abandoning all or part of the shared system so that contamination of ground water or other hazards will be avoided.
20
Ensure prompt collection from all parties and prompt payment of system operation, maintenance, replacement or improvement costs.
21
Specify that the recorded agreement may not be amended during the term of a federally-insured or -guaranteed Mortgage on any Property served, except as provided in items 5 and 11 above.
22
Provide for binding arbitration of any dispute or impasse between parties with regard to the system or terms of agreement. Binding arbitration must be through the American Arbitration Association or a similar body and may be initiated at any time by any party to the agreement. Parties to the agreement must equally share arbitration costs.
Joel Lobb (NMLS#57916)
Senior  Loan Officer
American Mortgage Solutions, Inc.
Disclaimer: No statement on this site is a commitment to make a loan. Loans are subject to borrower qualifications, including income, property evaluation, sufficient equity in the home to meet Loan-to-Value requirements, and final credit approval. Approvals are subject to underwriting guidelines, interest rates, and program guidelines and are subject to change without notice based on applicant's eligibility and market conditions. Refinancing an existing loan may result in total finance charges being higher over the life of a loan. Reduction in payments may reflect a longer loan term. Terms of any loan may be subject to payment of points and fees by the applicant  Equal Opportunity Lender. NMLS#57916 http://www.nmlsconsumeraccess.org/
— Some products and services may not be available in all states. Credit and collateral are subject to approval. Terms and conditions apply. This is not a commitment to lend. Programs, rates, terms and conditions are subject to change without notice. The content in this marketing advertisement has not been approved, reviewed, sponsored or endorsed by any department or government agency. Rates are subject to change and are subject to borrower(s) qualification.